What exactly are the best diabetic socks, and how can they help?
Why may someone that is diagnosed with diabetes require or choose to wear diabetic socks? What is the link to diabetes itself? Diabetes itself is, generally, a lifelong condition, that causes blood sugars to become too high. When a person is diagnosed with diabetes, there can be further diabetic-related complications with bodily functions – such as peripheral neuropathy, cardiovascular disease and infections. These infections and subsequent issues, can, of course, affect the foot and leg regions.
In the more serious of cases, foot and leg problems, such as ulcers, can lead to amputations. In fact, more than 60 percent of non-traumatic lower-limb amputations in the United States alone occur among people with diabetes (Source – Diabetes Caucus) and in the UK, more than 6,000 occupations are carried out every year according to Diabetes UK.
Diabetic socks can help to reduce the risk of infections or foot and leg blisters for some people.  They can also help to keep the feet warm in winter and cool in summer, helping feet to keep dry and aired to further minimize the risk of infection.   The Well Heeled™ designed diabetic sock could help to achieve all of this and more and has been designed in conjunction with the Royal College of Podiatry.
Unfortunately, there are no official guidelines on when the term 'diabetic' may be used in conjunction with a sock design. That's why Well Heeled Ltd has been working in conjunction with the Royal College of Podiatry, registered podiatrists and real product users, those that actually understand, work with and live with diabetes, and ShapedUp® design diabetic sock has been developed with the end-user, the customer, in mind first and foremost.
Why do people wear socks made for diabetics?
The main purpose usually includes the following:
Facilitating good blood circulation – not constricting circulation.
Prevent blistering through design and comfort.
Minimise moisture through the use of proper, quality materials.
Breathable – again, aided by the materials used.
Warm in winter and cooler in summer or warmer weather.
Adaptable – helping to fit many foot types.
Padded in certain areas, specifically the sole to aid comfort and protection.
You can see on the image on the right that the Shaped Up Diabetic and Comfort socks from Well Heeled have all these properties.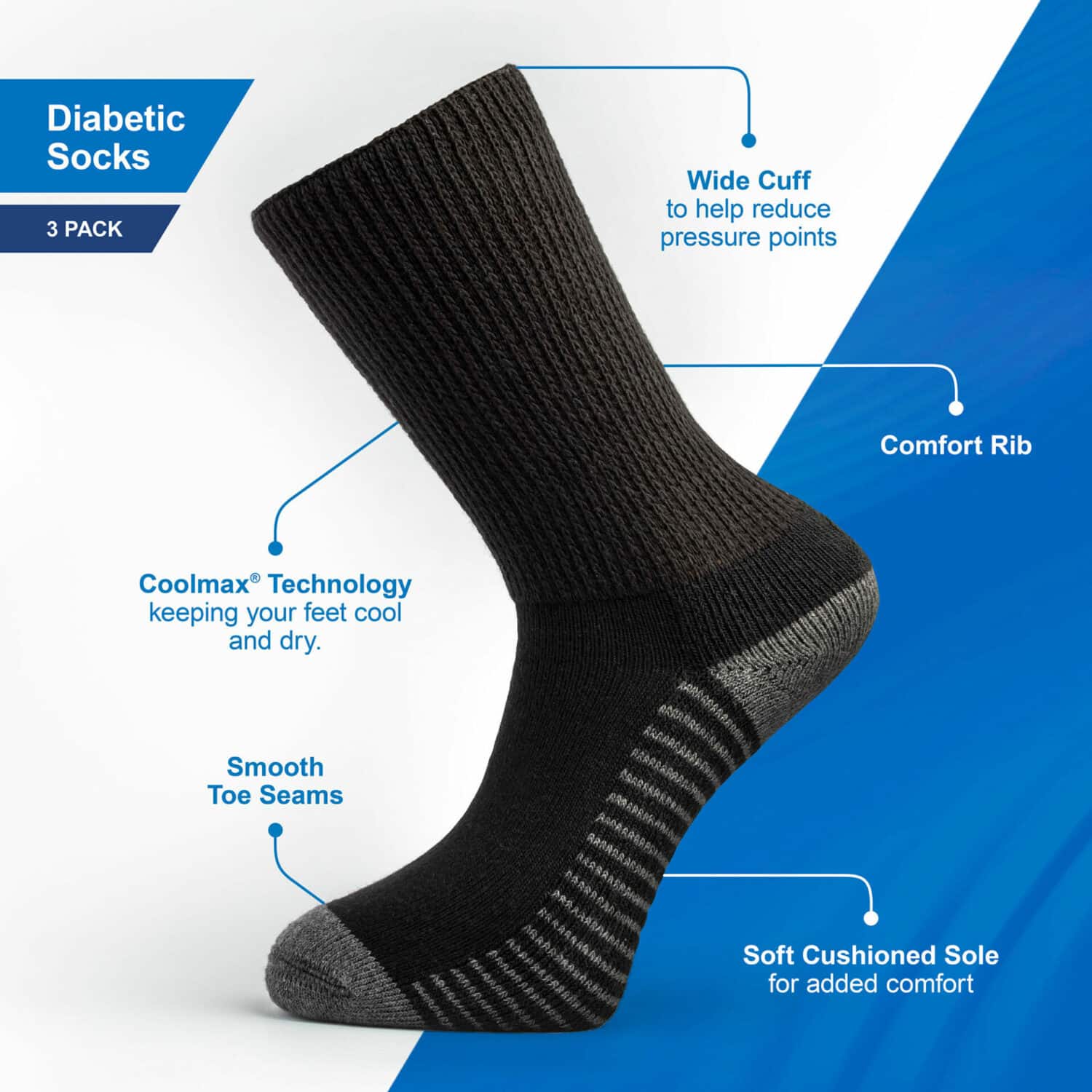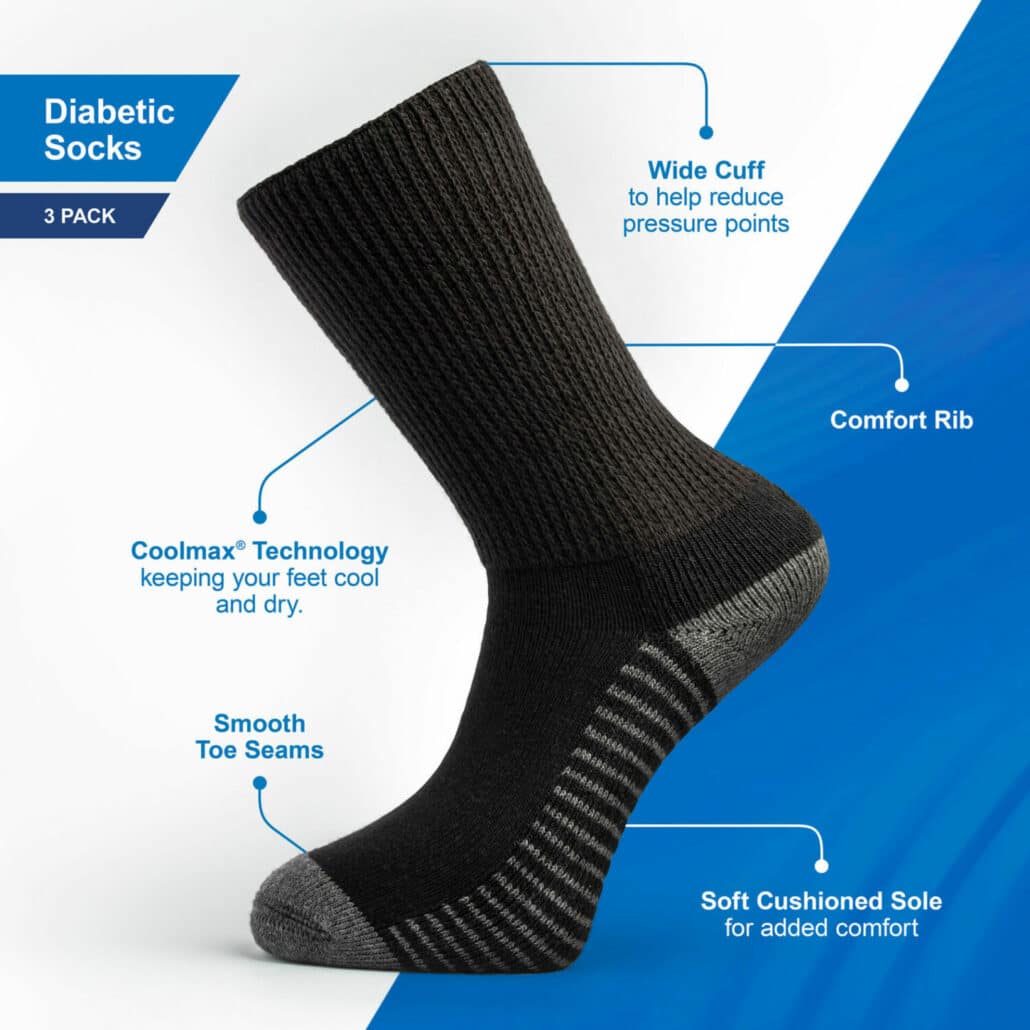 Why should they have reduced elasticity – especially at the top?
Diabetic and comfort socks that have tight-fitting elasticity can very much impede blood circulation in the feet. When this happens in people with diabetes and other foot-related problems, it can prevent self-healing or cause further foot problems for some.
The elastic is not always necessary for the socks to adjust properly. The absence of elastic can help to prevent circulation problems in the feet and calf, preventing them from becoming inflamed and causing unnecessary pain or discomfort.
Why should these socks be padded?
Diabetic socks, like our own, are often available with padded sections that can help in supporting or avoiding foot problems usually associated with diabetes. These problems include injuries from abrasions, bruises, or from wearing unsuitable socks that pucker and have seams.
This feature of diabetic socks can help to prevent many specific problems related to the sensitive skin of those with diabetes. This can also help avoid future complications from injury or infection, which in some cases can lead to foot amputation.
Why should diabetic socks be absorbent or wicking?
When the skin is very sensitive, sometimes because the immune system is weaker, people with diabetes may be more prone to yeast infections. These infections can cause serious skin injuries as they are prone to ulcers, which unfortunately can get worse over time, and due to the lack of oxygen supply, the affected limb is at risk and in some extreme cases, this riks be that a limb is amputated.
Therefore, it is important to have dry socks to reduce the risk of blisters and infections forming, which can be prevented with the right diabetic sock.
Who could wear these socks?
1.- Diabetics
If we take into account the opinion of the experts, diabetic socks should be used by people who have been diagnosed with any type of diabetes. In this way, the risk of complications occurring is reduced. Protection and prevention of any foot condition, present or at risk, should always be considered important.
Such conditions include:
People who have a low heart rate in the upper part of the foot and inside the ankle area.
Sensitivity and frequent injuries from footwear.
Individuals who are prone to fungal infections of both nails and skin.
Temperature fluctuations.
Swelling and irritation
However, you will usually not find any contraindications in diabetic socks, since they are garments that offer comfort, hygiene and a contribution to health. For this reason, both people who suffer from this disease and those who do not suffer from it, but are prone to foot problems, can both use them.
2.- Pregnant women
Many women are diagnosed with diabetes during pregnancy or even other conditions that cause tenderness and inflammation in the feet due to poor circulation. That is why these socks are ideal for them.
Diabetic socks can give you higher breathability on your feet, avoiding moisture and maintaining normal body temperature. They are lightweight and help reduce swelling caused by weight and prevent fungus from developing.
3.- Frequent travellers
Many people travel for professional or private reasons. If any of these reasons is the case, you can get diabetic (or comfort) socks because they can help you a lot in your long journey. You should keep in mind that sitting for hours can cause pain in your feet and swelling. You may also wish to consider compression socks depending on your travel needs and how much you can use your legs/feet when travelling – such as being able to stand and walk on a train versus being sat in a plane seat for hours.
4.- Sportspeople
Some sports require a lot of physical exertion on the feet, eg hiking, mountaineering and military training require additional protection from moisture, friction and impact caused by the high demands of such activities.
In this case, the absorbent and cushioning properties of these socks are of great help to protect the athlete's feet and increase performance.
5.- People who need extra comfort
People who do not have a diagnosis of diabetes or are not athletes but work in offices or in activities that require much footwork can wear such socks without any problems since they may experience particularly sensitivity, fatigue or pain in the foot and leg areas – for example as a security person who has to stand and walk for a long time can.
What are the usual properties of diabetic socks?
Diabetic socks, sometimes called comfort socks, are known to offer our feet added protection and comfort, since they have no or little elastic, smooth seams, as well as padding in certain areas of the foot and, quite often, the materials used, can help to prevent moisture build-up without drying out the foot.
Materials Used
Diabetic socks can be found with a combination of materials like bamboo, others with silver or copper wires, etc. These materials have the great advantage of being much more absorbent than a normal sock and also have natural properties that help fight fungi and bacteria. This way you can keep your feet dry and free from infections and odours.
Padding
Research has shown that additional padding increases absorbency, minimizes sensitivity, reduces irritation, relieves pain and effectively protects against injury.
Depending on your needs, you can buy them with different thicknesses and pads that provide extra padding.
Heel pads are particularly useful when standing for long periods of time as they provide extra cushioning and support.
If you run or exercise frequently, you may also need this type of padding to prevent friction injuries. Additional fillings are usually made of a different material that adds thickness to a specific area of ​​the garment. This material is usually the same as that used to make the sock. However, there are also socks with gel or silicone fillings.
Size and Shape
You can find socks that go up to the calf or knees and help those who have circulatory problems.
Those who are very active due to their occupation can also ensure comfort with socks designed for sport. These usually reach the ankles and protect the heels.
On the other hand, you can also find socks of different colours and designs, even those that are almost invisible as they have a superficial cut.
Differences between these socks, compression socks and ordinary socks
The price of some socks for people with diabetes is usually the same as the price of a pair of good quality wool socks. So what makes them different from a pair of regular socks?
Buy Now
What are the main properties of the Well Heeled socks?
The welt (or cuff) is non-tight to ensure there is plenty of stretch around the top of the sock. This ensures optimal comfort and slight grip to prevent the sock from falling but not being constrictive and so not stopping blood flow to and from the leg and foot.
The comfort ribbing on the top half of the sock helps to further stabilise the gentle hold on the leg area but in a way where they leg can still stretch and breath. The horizontal nature of this ribbing runs in parallel with the leg shape (up and down) rather than gripping around the leg like other socks.
The cushioned sole also aids comfort and aids the bottom of the foot without being intrusive nor causing rubbing, and could help prevent further injury to the foot area.
The hand linked toe seams help to reduce the friction that other socks can cause when seams are more prominent. The design can also help prevent the toes from being squeezed together and building up moisture.
Quality, comfortable and sustainable yarns. The high cotton content has been added to with Lycra® (elastane) to aid flexibility but also to ensure comfort and softness as well as breathability. The Well Heeled designed diabetic sock also uses CoolMax® Ecomade technology that gives excellent cooling properties to the sock but also is made with 100% recycled resources to help the environment – helping Well Heeled to further sustainability as a small UK business but also to ensure we meet expectations of the users/customers. This material also has excellent moisture wicking performance that helps to remove excess moisture away from the skin – something that is very important to help reduce the risk of infection.
Socks for Diabetics Infographic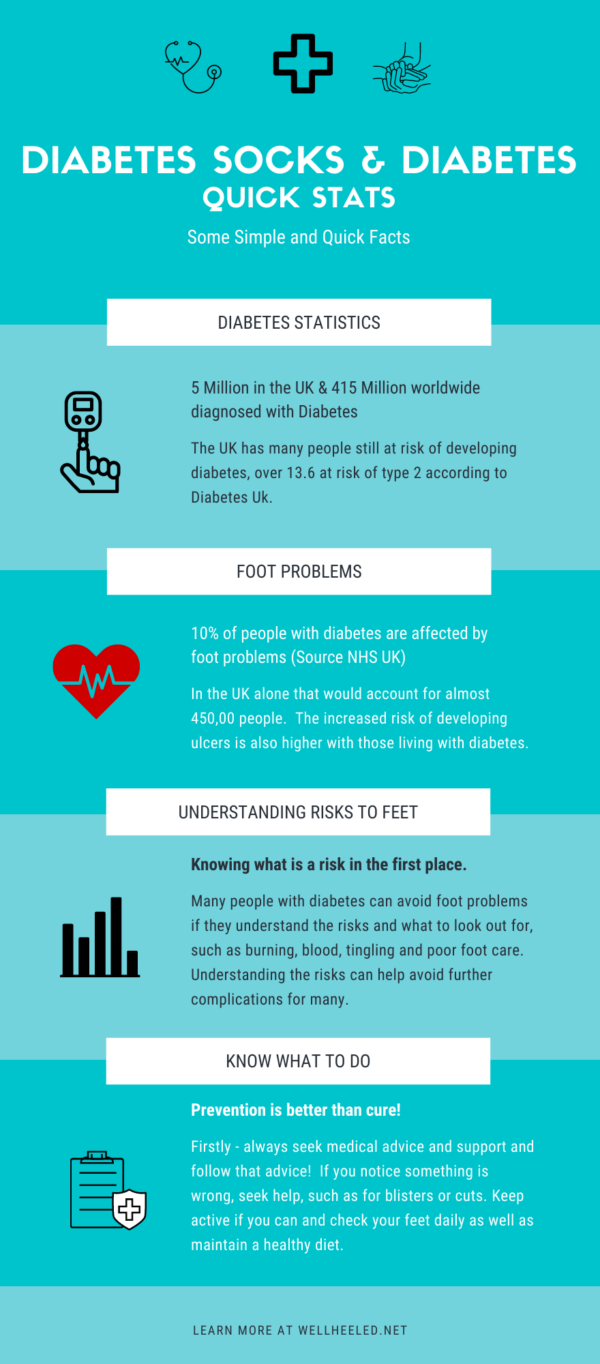 What are the pros and cons of diabetic socks?
Advantages
There are several benefits to using diabetic socks, but the main ones are:
They can protect the foot from injuries and blisters.
They can adapt quickly to the foot without compressing the circulatory system.
They have no annoying rubber bands.
Their antimicrobial properties protect the foot from infections and bad odours.
They protect the feet in pressure-sensitive areas.
It helps reduce swelling in the feet.
It improves the temperature.
Additional padding for sensitive areas.
It helps prevent blisters from stitches.
Its natural components create moisture absorption.
Minimizes the risk of amputation.
Disadvantages
Luckily, these socks have no short or long-term downsides. For this reason, health experts recommend these socks for everyday use.
What should you consider when choosing your socks if diabetic?
When you buy these socks, you must choose the design that best suits your needs. Despite the design, you can always find comfort in these socks. If you have complications with the sensitivity of your feet, consult your doctor to recommend the ideal model. You may need knee socks so as not to lower the temperature of the feet.
Also, you should take into account if the skin of your feet is dry or if you already have blisters, to know the appropriate material to buy in these cases. In general, the softest socks you can get are made from bamboo threads.
On the other hand, you should always check that there are no seams anywhere in the socks to prevent the blisters from getting worse, leaking or other lesions appearing. You should also note that they don't have an elastic band so there is no swelling in the feet.
To choose a pair of socks that fit your feet properly, you must choose the same number or length as your shoe.
However, please note that for these socks to perform their function 100%, you must wear shoes that do not hurt your feet or are not that tight. Otherwise, it's no use that the socks are soft and comfortable. When wearing shoes that tighten or create friction.
How do you clean and care for these socks?
It is important that socks are changed regularly and washed after use, especially those that tend to sweat a lot.
For better durability, these socks should be washed with cold water and dried in the shade to avoid sun damage. With proper care and regular use, they can last up to 6 months. Also, they should not be worn if they already have holes.
Where can you find these types of socks?
These socks are available through our own shop, of course. However, buying online is a good idea when you need to look for a specific type of socks due to the wide variety of brands and products available. We would never just say that ours are the best diabetic socks, but we have tried hard to make them as usable to all people as much as possible! At Well Heeled, it's very important for us to be open and honest, so you may find socks that suit your needs elsewhere but why not gives us a try too.
Diabetic Socks FAQ
Socks for Diabetics – Do you have to wear diabetic socks if you have diabetes?
All our feet and legs are different – whether you are diagnosed with diabetes or not. You should always seek professional advice if needed for any medical equipment you may need or when you are unsure. The Well Heeled designed diabetic sock has been designed to meet as many people's needs as possible, but it will not suit everyone. Likewise, when you are diagnosed with diabetes, it does not mean you will need certain equipment all the time – including specific socks. Again, seek advice from a professional if you are unsure about the care and support you need.
Can anyone wear diabetic socks?
Yes of course if they are suitable for your needs! The Well Heeled diabetic sock is not just for people with diabetes. It could help to support other leg and foot problems such as oedema (please do ask for advice from a professional first) but the socks are just as comfortable for everyday wear too. The flexibility of the design whilst still remaining true to everyday comfort and style, the Well Heeled socks are suitable for many people.
What are the best diabetic socks?
There is no 'one' perfect diabetic socks. At Well Heeled we would love to make the claim that our diabetic sock is the 'best' but we won't and shouldn't. Why? Well because it may not be the right sock for you! Like anything in life, one thing may not suit all people – that's the same with diabetic socks or just socks in general. We would love you to love our diabetic sock, but equally it's very important that you choose the right sock for your needs. The 'best' diabetic socks are the ones that meet your needs, make you feel comfortable, but most of all are the ones you are happy with.
How long can you wear diabetic socks for?
Alternative Sock Types
Ordinary socks
Ordinary or everyday socks tend to be baggy, stretch slightly, and are wider at the heels and under the toes. Most also have stitching and elastics which, combined with the materials they are made from, trap moisture and restrict circulation.
On the other hand, even thick socks lack the padding that provides additional protection for the feet.
The advantage of these socks is that if they are not elastic, they adapt perfectly to your foot. They also have no seams and don't bulge in your fingers, causing pain or chafing.
That's because the brands make the socks with the right fit so you can easily find your size, so the garment doesn't bag and doesn't create moisture.
Compression socks
These socks have one goal, which is to create pressure in specific areas of the feet so blood circulation is more effective. In this way, the blood flow to the heart with better intensity, better oxygenating the blood and preventing inflammation of the feet.
On the other hand, in the market you can find this type of socks for people suffering from this condition, but usually, they are not suitable for those suffering from arterial problems. This is because additional compression on the feet or lower legs is likely to increase the restriction on the flow of oxygenated blood to an area already suffering from oxygen starvation, causing the user to suffer limb amputation.
People with this condition can use these socks with a light compression, which can be useful and safe, but should always be used after receiving appropriate medical advice.
Soft Top Socks
Sometimes when searching for specific socks, such as diabetic socks, you will come across the term 'soft top'. In essence, this just means what the term states – the tops of the socks are softer and usually stretcher than you would normally have with other socks. These are to be more comfortable, having extra comfort to ensure a good but not tight-fitting on the foot and leg but also to be 'soft' at the top so as to not further irritate or damage a delicate part of the leg.

Moisture socks
Moisture socks are a common type of sock that people use to 'moisturise' the foot area. Typically, they can be used with moisturising gels, or some moisture socks even have a gel-like substance within the sock itself. When using this type of socks, it's best to make sure, maybe by consulting your foot professional, that these socks are going to be of benefit to you and not damage your foot in any way, for example, if there was any skin damage already present that you would want to avoid putting chemicals on.

Socks for Swollen Feet
Again, these socks can come in a variety of different shapes and sizes, but generally speaking, such as with the Well Heeled Shaped Up Diabetic & Comfort Socks, if a sock is made for someone that has diabetes, then the sock will almost certainly fit someone with swollen feet as it will already have the correct properties to help it stretch around the foot and contract as the swelling goes down. You should always make sure you look at the sock properties as some cheaper socks may be tempting but you don't want to put your foot at risk just to save a few pennies.

Socks with Toes UK
Socks with toes are a very common, funky, and sometimes practical sock for many. The reason I put UK in the heading is that there are plenty available I the UK, but these are not classed as 'medical' socks. They are mainly just funky and different socks as well as sometimes being used for sporting activities. It is argued that these socks help the foot to move and work as designed by nature, helping to avoid or reduce the risk of blisters and other injuries that may be caused by friction. Distance runners have been known to wear these and some argue that these types of socks can help reduce swelling. They are sold throughout the world as well as in the UK, but I prefer the more traditional sock from a comfort point of view.

Bed Socks for the Elderly – or for everyone?
First, I would ask "what is elderly"? Socks can be worn by anyone in normal circumstances, this includes bed socks. The question is often put as bed socks for the elderly but many people wear bed socks, of all ages. Traditional, stating that bed socks are for the elderly stems from people wanting their elders, be this at home or in a nursing home environment, to have warm and comfortable feet at nighttime – especially on those winter nights. This would be true of anyone that has poor circulation and needs that extra warmth and comfort around the foot and toe area, regardless of their age!

Flight Socks (or graduated compression socks)
Flight socks are often called a graduated compression sock and they are, essentially, a sock that helps to increase or improve circulation when travelling, not just on flights but in for any type of travelling where there could be long periods of inactivity. They may have a shaped heel or reinforced toe sections as well as a top banding area that helps the sock to stay in place as well as helping with comfort.

Seamless Socks for Men
Seamless socks are, of course, not just for men, yet I see more men asking about these than any other gender. It is difficult to state that a sock is seamless as there has to be a join in order to keep socks together. However, 'seamless socks' are made so the seam is barely present, thus they can help to avoid irritation caused through rubbing in what could be very sensitive areas. The Well Heeled diabetic and comfort socks do this within their design.

Neuropathy Socks
There are many types of neuropathy socks, with some neuropathy socks having very fancy technology involved such as electrical currents, gel pads and compression therapy. Like most socks in this list, the main purpose of neuropathy socks is to help protect the foot and toes areas that could be damaged, specifically in this case due to nerve damage.

Wide Ankle Socks
Many of the socks discussed above are suitable for those that need a little more space in the ankle area, so-called wide ankle socks. This is because most have the material and design that allows stretching in all areas of the foot, ankle and leg to accommodate such things as bunions, swelling/oedema, diabetes and more. The term 'wide ankle sock' is a general term often searched for people with that specific need.

Care Socks UK
Again, the reason I have put 'UK' in the heading is because I am speaking from the UK so the term 'care' in other parts of the world could mean many different things. The term 'Care Socks' is a term often searched for here in the UK for individuals wanting to buy or wear socks to help them with their foot or leg related problems. Many of these care needs are listed in this article.
I truly hope this has been some help to those of you wanting more clarity on the different types of socks that are out there, but if need be, please do leave a comment below and tell us if we have missed something off or if you want to add your own information!
Diabetic socks, as with normal socks, can be worn daily but like any other sock or clothing product, if you feel uncomfortable or there is irritation etc then you should consider changing size or type of sock. The Well Heeled designed diabetic sock is for everyday use and has been designed with that in mind. They should be cared for as per the washing instructions and worn according to your own needs. Like any other piece of clothing, socks will need to be replaced depending upon usage.