The Well Heeled Autumn 10% voucher is here!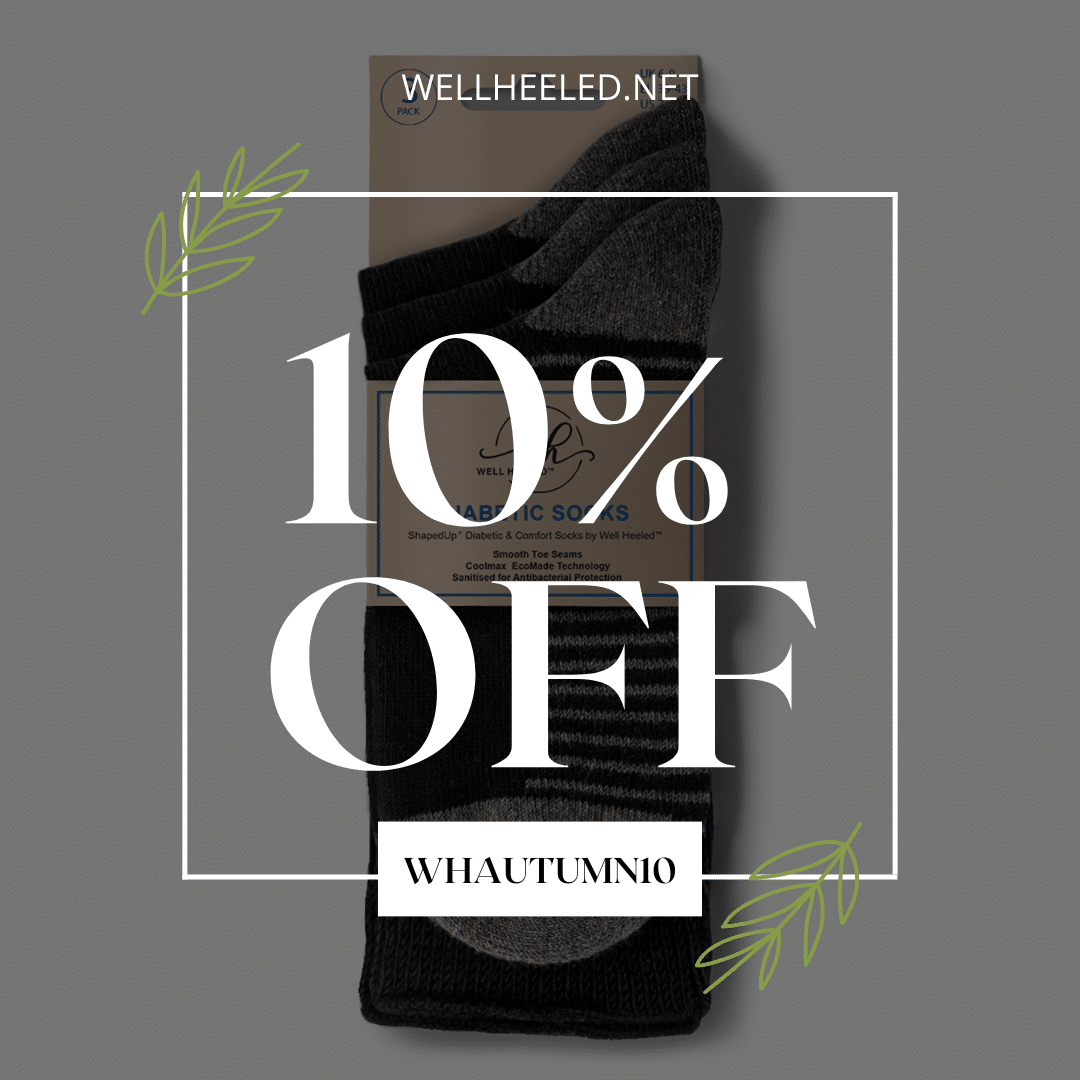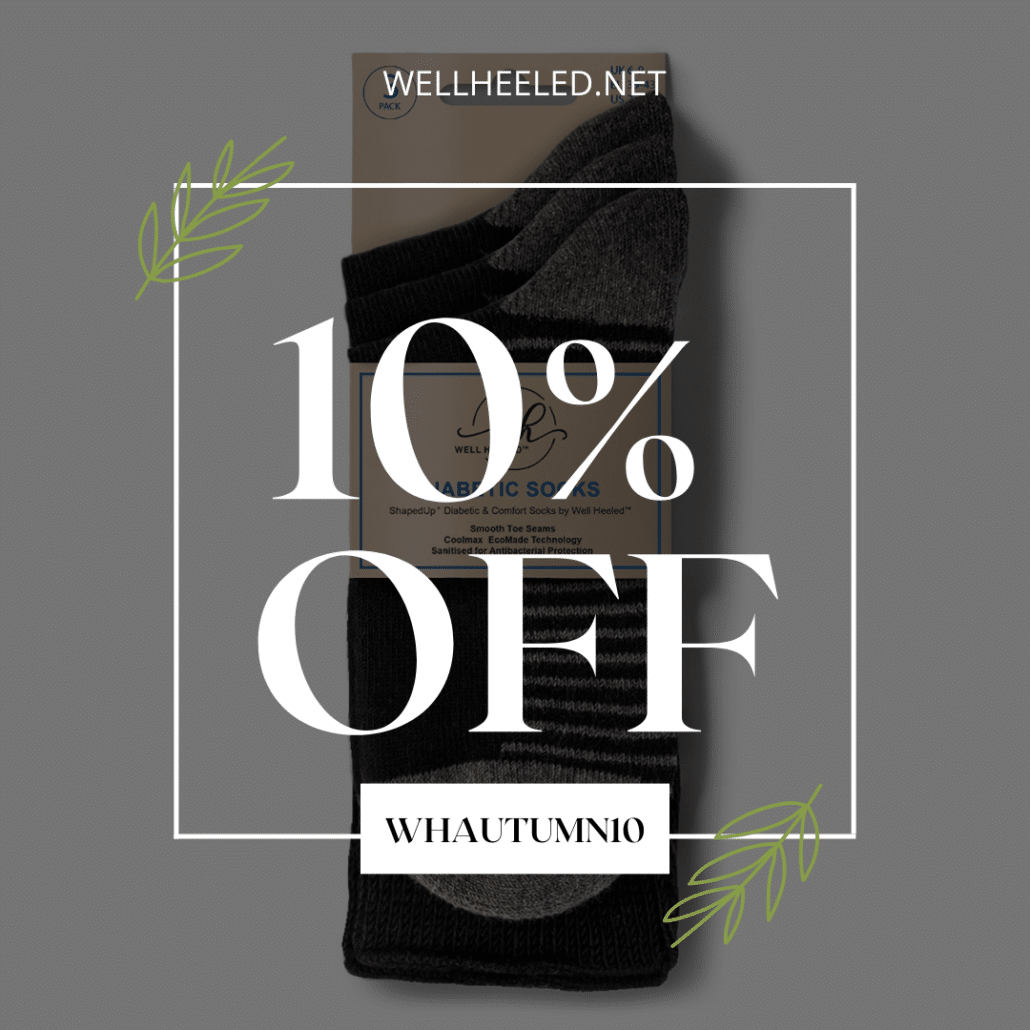 As the leaves have now changed colour and the crisp air signals the arrival of autumn, it's time to step into the season with comfort and style. At Well Heeled, we understand the importance of keeping your feet cozy and supported, especially for those with diabetic sensitivities. That's why we're thrilled to offer an exclusive 10% discount on our Well Heeled Diabetic Socks for Autumn 2023.
Comfort for Diabetic Feet or Any Feet!
Well Heeled Diabetic Socks are specially designed to provide the utmost comfort and support for individuals living with diabetes. With seamless construction, gentle compression, and moisture-wicking properties, these socks are tailored to keep your feet healthy and happy.
Why Choose Well Heeled Diabetic Socks?
Seamless Design: Say goodbye to uncomfortable seams that can cause irritation. Our socks are crafted with precision to ensure a seamless experience.

Gentle Compression: Designed to promote healthy blood flow, our socks gently hug your feet to prevent swelling and discomfort.

Moisture-Wicking Technology: Keep your feet dry and odor-free throughout the day with our advanced moisture-wicking properties.

Quality Materials: We use only the finest materials to ensure durability and long-lasting comfort.
How to Redeem Your 10% Discount
Redeeming your 10% discount is easy! Simply visit our website, wellheeled.net, and shop Well Heeled Diabetic Socks. Add your desired items to the cart and at checkout, enter the code WHAutumn10 to enjoy a 10% discount on your purchase.
Terms and Conditions Apply
Please be aware that this discount code cannot be combined with any other promotions or offers and is valid until November 30th, 2023. For more details, refer to our Terms and Conditions at the bottom of this page.
Spread the Comfort
Share this exclusive offer with your loved ones who might benefit from the comfort and support of Well Heeled Diabetic Socks. Let's make this autumn season one filled with warmth and comfort for all.
Don't miss out on this limited-time offer to experience the unmatched comfort of Well Heeled Diabetic Socks at a special 10% discount. Visit wellheeled.net today and step into autumn with confidence and ease. Embrace the season with comfort, embrace Well Heeled.
PS – did we mention that you get FREE delivery on all orders over £25 too?
T's & C's
This voucher entitles the holder to a 10% discount at wellheeled.net only.
This voucher is valid until 11:59 PM on November 30th, 2023.
Any purchases made after this date will not be eligible for the discount.
This voucher cannot be used in conjunction with any other voucher, promotion, or offer.
The voucher is non-transferable and cannot be exchanged for cash or any other form of credit.
The voucher can only be redeemed at wellheeled.net and cannot be used at any other retailer or outlet.
To redeem the voucher, enter the provided code at the checkout on wellheeled.net.
The discount will be applied to eligible items in your cart.
Any attempt to duplicate, transfer, or misuse the voucher may result in its invalidation.
Well Heeled Ltd. reserves the right to amend or cancel this promotion at any time without notice.
In the event of any dispute, the decision of Well Heeled Ltd is final.
These terms and conditions do not affect your statutory rights.